Summer is almost ending, and we are getting very excited to kick this year off to a great start!
This website is in the process of being updated, and this should be all ready to go within the next week or so.  However, we do have meeting, quarterly, and other important dates posted for the entire year: Fall 2011  and  Spring 2012.  Below is also a calendar; here is also a link to the Word version if you would like to PRINT the AS&F 11-12 Calendar. 
In addition to the calendar below, make note that Quarterly bill due dates are always about 3 weeks prior to the Quarterly meeting in order to ensure correct vetting takes place.  Quarterly bill due dates are as follows:  1st Quarterly bills due Wednesday September 7th; 2nd Quarterly bills due Wednesday November 2nd; 3rd Quarterly bills January 25th; 4th Quarterly bills April 4th.  For further information on how you can be more prepared for quarterlies, check out the blog From Daunting to Prepared, or feel free to stop by the office.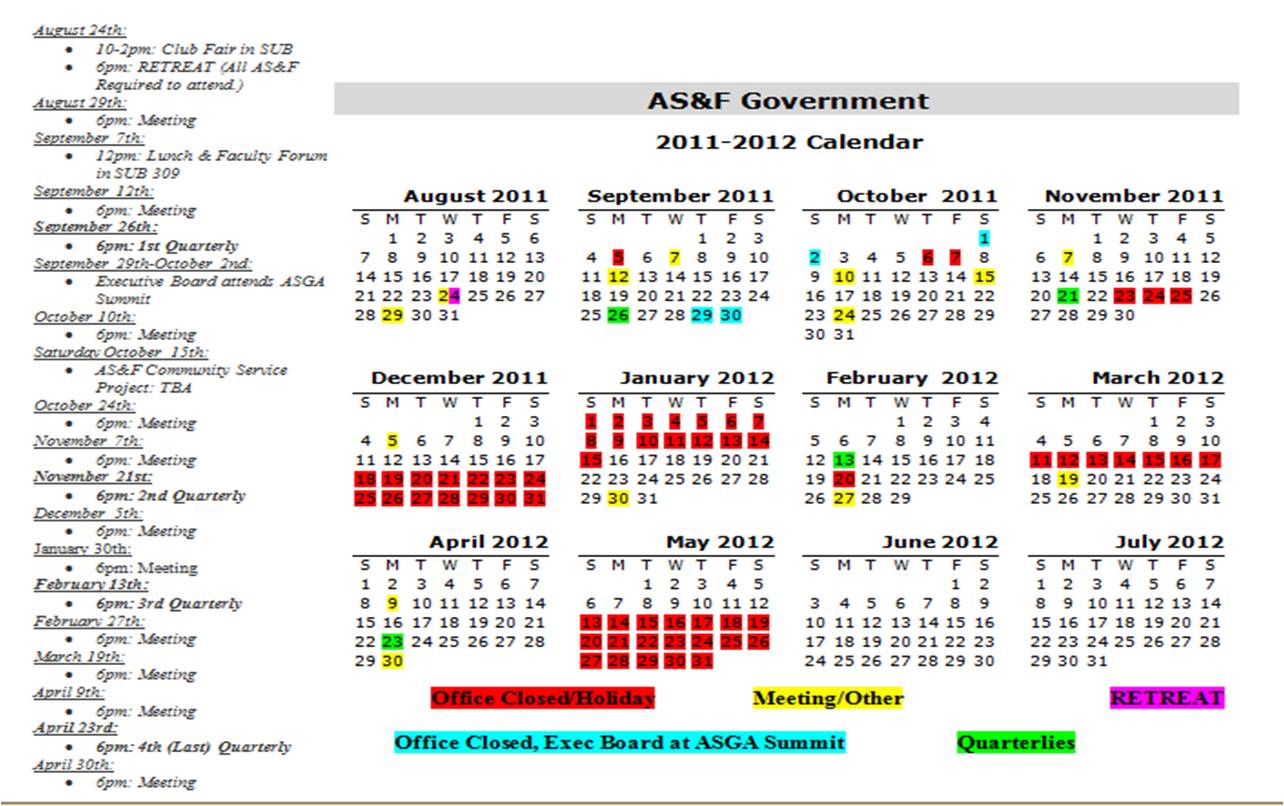 In addition to the calendar, please take extra note that the first retreat is Wednesday, August 24th at 6pm in the Business Building.  All AS&F Government is expected to attend, please contact us with any conflicts or questions that arise.
The club fair will also take place on August 24th from 10-2pm in the SUB if we get enough response from clubs.  If you would like to be a part of this, please contact Program Assistant Jeni Carter at carterjm@grizzlies.adams.edu by August 18th at 5pm.
We'll see you all soon, hope you enjoy the last couple weeks of summer!