Lathen Tsalate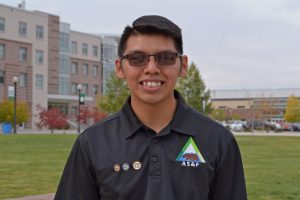 Major: Music Education with both concentrations in Instrumental & Vocal
Minor: Kinesiology: Coaching
Graduation Year: Spring 2022
Hometown:  Zuni, New Mexico
Hobbies & Interests: 
Running

Biking

Helping Others

Finding great deals on clothes

Getting lost inside YouTube

All things music
Other Leadership Roles & Involvement: 
President of ASMES

New Student Orientation

Pride Club
What is your favorite place on campus?
My favorite place on campus is where students feel at home no matter what background they come from. If students are happy on campus, I wanna join in on the fun and have a good laugh.
Why did you join AS&F:
I originally joined AS&F last year to fill in for the open Executive Secretary position. At the time I treated the position as a job. I had no interest in running for President until I was talking with a friend about how so many people complain about their happiness and joy on campus. It dawned on me; there are 2 types of people, those that complain about their problems and those that try to solve those problems.
Coming from 6 hours away and not knowing anyone on campus I had the opportunity to get to know more people and ask questions from all majors from all parts of the state and 4 corners area on campus. Which led me to learn from so many individuals across campus. After 3 years of hearing "Well the campus should do this," or "Why doesn't the campus do that?" and "If I was _____ I would've done it this way", I thought, "Well why don't I  go and try to make a change for these people?" If you won't stand for anything you might as well fall for anything.
I've always been the type of person to try my best to help someone who needed me. I asked myself, "why not?" Why not run for the role of Student Body Government President? I know I may not be the smartest person on campus, or someone who knows what's best in order for the campus to be perfect, but I can try, right? Every person on this campus is unique and has great ideas for potential change but the only way we can change our culture is through the changes we make as students TODAY.
My motto for being your Student Body President is, "If I cannot help you with an issue, problem or situation; I know someone who can help." The day that you say yes, "I am an Adams State University student" is the day that your problems become our institution's problems.
What are your goals for AS&F:
Kick some butt and get jit done

Get people on campus to understand that they DO have a voice on campus

Learn from as much people as I can about their experiences at Adams

Stay on campus and NOT go back to online classes

Get students involved in safe activities on/off-campus
Email:  tsalatelm@grizzlies.adams.edu
Office Hours:
Monday/Wednesday/Friday: 8AM-9AM
Tuesday/Thursday: 9:30AM-12PM
Friday: 3PM-5PM
Job description:
Preside over all meetings of the AS&F Government
Acts as the Chief Executive of the Executive Board of AS&F
The power to approve or veto any legislation or motion passed by the AS&F Senate
Appoint, subject to Senate approval, the AS&F Vice President of Finance
Appoint, subject to Senate approval, an Executive Secretary
Appoint, subject to Senate approval, a Chief Justice
Serve as a member of any committee as deemed necessary by the AS&F Government
Training and orientation for AS&F government (including senators and reps)
Writing senator and new club bills
10 office hours per week, spread over 3 days