Ashley Espinoza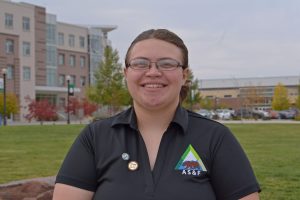 Major: Music Education & Music Performance
Minor:  Spanish
Graduation Year: Spring 2022
Hometown: Sanford, Colorado
Hobbies & Interests:
Making music
Playing sports
Hanging out with friends
Other Leadership Roles & Involvement
Former AS&F representative for ASMES (formerly known as (NAfME)
Member of ASU concert band
What is your favorite place on campus: Music building
Why did you join AS&F: I joined AS&F because I want to be the voice of the students and make sure EVERYONE is heard.
What are your goals for AS&F: My goals are to make sure that every student, teacher, and department are heard. We all have voices and all of the deserve to be heard.
Email: espinozaan@grizzlies.adams.edu
Office Hours: 
Monday/Wednesday/Friday: 8AM-9AM & 12PM-1PM
Job Description:
Jurisdiction on any disputes arising from interpretations of the AS&F Constitution and Bylaws
Manage student concerns from the AS&F body
Head of the investigative committee
Appoint justices to court
6 office hours per week, spread over 3 days
Required to attend all meetings (unless excused by the President)