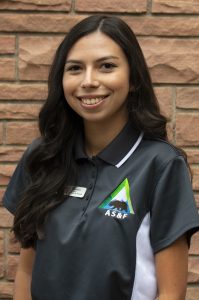 Name: Briana "Bri" Gonzales
Major: Psychology
Graduation Year: 2019
Hometown: Taos, New Mexico
Hobbies & Interest:
Watching vine compilations
Looking at memes
student advocacy,
diversity
equality
dogs
Other Leadership Roles & Involvement:
New Student Orientation Leader
Vice President of Multicultural Student Governance
Vice President of Psi Chi ASU Chapter
Why did you join AS&F: Joined as a Senator- At-Large, I was then encouraged to take on a bigger role and I was interested in helping students to make ASU a better place.
What are your goals for AS&F:  Overall, I would like to create a welcoming environment in AS&F. I want all students to feel like they can come to us and especially me (Chief Justice) with concerns.
Email: gonzalesbl3@grizzlies.adams.edu
Office Hours: 
 Monday
 9:00 AM – 10:00 AM

3:00 PM- 5:00 PM

Wednesday
 9:00 AM – 10:00 AM
Thursday
 1:00 PM- 2:00 PM
Friday
 9:00 AM – 10:00 AM
Job description:
–Has jurisdiction on any disputes arising from interpretations of the AS&F Constitution and Bylaws
–Fulfills secretary responsibilities in the case of her absence
–Maintains judicial records in a central location as well as soft copies, including updated constitution and bylaws packets