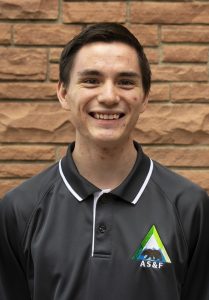 Name: Cody Trujillo
Graduation Year: 2018-2019
Major: Accounting
Hometown: Raton, New Mexico
Hobbies and interests:
Reading,
Playing the Guitar and Violin,
Running (when I'm in the mood),
Hiking,
Swimming,
Camping,
Politics, and radical honesty
Other leadership roles & involvement:  I am in
Phi Beta Lambda (PBL),
Agricultural Business Club (ASAC),
 Curriculum Innovation Team (CIT)
Why did you join AS&F?: I have always felt such a strong passion for student advocacy, and AS&F was the perfect way for me to voice my opinions. I have always known that my voice mattered; however, it wasn't until the legitimacy of AS&F did I start to notice real changes being made. Since I have been part of AS&F my passions have only grown stronger—the only difference is, now I can walk into any situation knowing I have the tools and knowledge to make my opinions not only heard but acknowledged.
What are your goals for AS&F? My goals are simple; I wish to make Adams State University better when I leave than it was when I arrived.
What is your favorite place on campus? The AS&F office…. Duh…
Email: trujillocm3@grizzlies.adams.edu
Office Hours:
| | |
| --- | --- |
| Monday |  10:00 AM -11:30 AM |
| Tuesday | 11:00 AM -12:30 PM |
| Wednesday |  10:00 AM -11:30 AM |
| Thursday | 11:00 AM -12:30 PM |
| | |
Job description:
Acts as a liaison between ASU student body, AS&F, and any Colorado Higher Education Student Organization of which AS&F is a member
-Serves on the Faculty Senate
Acts as the Lobbying Committee Chair
Serves on any committees or organizations deemed necessary and attends any other meetings deemed necessary by AS&F
Researches and maintains current information for students regarding Colorado Higher Education Student Organization and Board of Trustees