On a snowy Friday, March morning, I set out on my journey to visit the Museum of Indian Arts & Laboratory of Anthropology in Santa Fe and the Indian Pueblo Cultural Center in Albuquerque.
Julia Clifton is the Curator of Archaeological Research Collections in Santa Fe. The state's repository facility is off site from the museum. The research center conducts archaeological research projects throughout the state of New Mexico. Their mission is to identify, interpret, and share information about prehistoric and historic sites across the state. The office serves state agencies and private organizations that need archaeological studies performed as part of their development projects. In addition, they provide ethnographic and historical research services and have an award-winning education outreach program.
Julia explained the process of receiving artifacts that are brought in from a field site. I was
taken on a tour of the facility: storage rooms, work rooms, and laboratory where radiocarbon dating is conducted. I was privileged to have the innovative carbon dating process that is conducted by Dr. Marvin Rowe explained to me. I found this to be very fascinating and I would say the best part of the visit.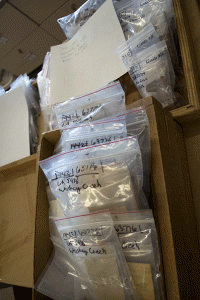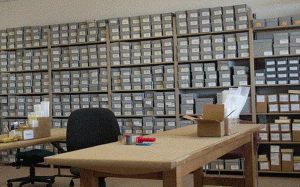 Collection of artifacts from field sites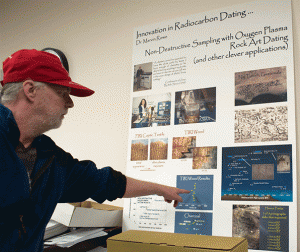 Explanation of carbon dating process
I have a complete journey of a vessel from a field site to the museum. I am very fortunate to have meet several people who work at the Laboratory of Anthropology, they do great work and are very dedicated to the research they conduct.
At the Indian Pueblo Cultural Center in Albuquerque I had the privilege of having Amy Cisneros the Collections Management Specialist be my tour guide of the center. Amy has worked for the Indian Pueblo Cultural Center for fifteen years. The Indian Pueblo Cultural Center is the place to discover the history, culture, and art of the 19 Pueblos of New Mexico. The museum has a permanent exhibit, "We Are of This Place: The Pueblo Story," this exhibit highlights the Pueblo's legacy of resilience, telling their story in the words and voices of the Pueblo people. The design of the exhibits is inspired by traditions that have been passed down for generations.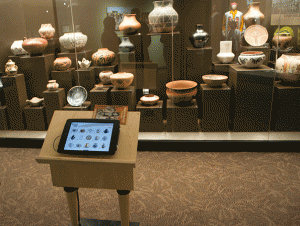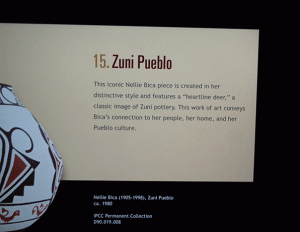 No more flip books… kiosk instead
In the South Gallery, they have rotating exhibits. Currently on exhibit is contemporary painter Marla Allison of Laguna Pueblo.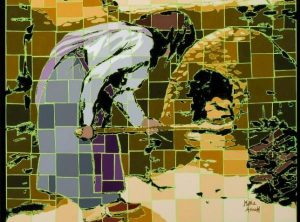 I highly recommend a trip to visit the Indian Pueblo Cultural Center in Albuquerque. Marla Allison's exhibition will be on display until June. You can have breakfast, lunch, or dinner at the Pueblo Harvest Café located inside the cultural center.