Pottery from San Juan Pueblo (today known as Ohkay Ohwingeh) has long been prized. Before 1900, San Juan pottery was either red-on-tan or polished black and usually not decorated. The slip used on the pottery was purchased from Spanish-Americans of Abiquiu. In the 1930s Regina Cata, a Spanish woman who had married into the pueblo, introduced a new style of pottery. Regina organized a group of potters, including Reyecita A. Trujillo and Tomasita Montoya, whose pots the museum is fortunate to have acquired. The group of women potters studied ancient Potsuwi'i incised pottery shards dating from around 1450-1500. The shards had been discovered in the abandoned ancestral village of San Juan, across the Rio Grande from the current pueblo. This new style of pottery consisted mostly of red ware. The rim and base of the pots are usually polished red with an unslipped, buff-colored band in between. The band is either carved and decorated with red, buff, and white matte paints or incised with a micaceous slip, which is applied before the firing of the pot. Designs are typically geometric patterns, flowers, feathers, kiva steps, spirals, rainbows and sun/cloud patterns.
---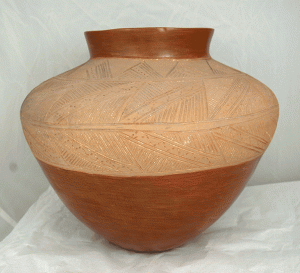 Reyecita A. Trujillo  (active c. 1925-45). San Juan Pueblo/Ohkay Owingeh.  Jar, 1930s/40s. Red, tan, and beige on tan clay, burnished. 32.8 x 41.4 cm. (dia.) Gift of Dr. F. C. Spencer. 1945.1.15.
Reyecita A. Trujillo was from the San Juan Pueblo and was one of the seven original potters who participated in the San Juan pottery revival in the 1930s. She worked with her husband, Juan Hilario Trujillo, who carved designs on her pots and is known for her redware polychrome plates, carved blackware and micaceous jars.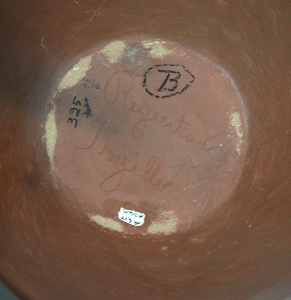 Signed on bottom of pot: "Reyecita A. Trujillo"
---
Tomasita Montoya (1899-1978). San Juan Pueblo/Ohkay Owingeh. Storage Jar, c. 1960-65. Tan, white, and red on red clay, burnished, incised. 22.6 x 33.2 cm. (dia.).                           Gift of Mrs. Charles H. Woodard. 1965.1.8
Tomasita Montoya (1899-1978) was a San Juan Potter. She was one of the original seven potters in the 1930s "San Juan Revival". Especially known for her incised polychrome redware jars, bowls and vases. Decoration on these vessels included clouds, kival steps, triangular fret and fine line hatching. On occasion she utilized micaceous clay, adding some textured geometric elements.
Tomasita worked along side her daughters; Dominguita Sisneros and Rosita de Herrera, who are also famous potters.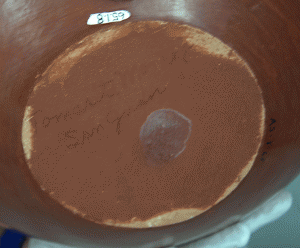 Signed and inscribed on bottom of pot: "Tomasita Montoya" / "San Juan"
---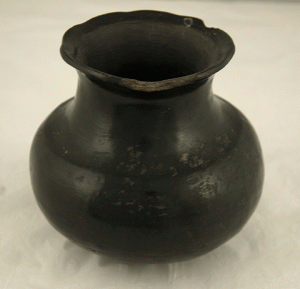 San Juan Pueblo/Ohkay Owingeh. Olla, c. 1920s/30s. Red clay, reduction fired.                                     13 x 13.2 cm. (dia.) Gift of Mrs. Charles H. Woodard, 1965.1.68
---
BIBLIOGRAPHY
Frank, Larry and Francis H. Harlow, Historic Pottery of the Pueblo Indians 1600-1800. 1990