Santa Clara potters have a long history of pottery making and have become famous as innovators. They are masters of form. There are more than 200 active Santa Clara potters. Until the 1920s, a majority of Santa Clara pottery was undecorated redware, blackware or was made of a natural micaceous clay. They have developed famous techniques and their pottery decoration has become a hallmark of the pueblo. Today, the Santa Clara Potters are constantly modifying their traditions. Potters have been experimenting with their art for years; they have created the field of miniatures (Batkin, 1987).
---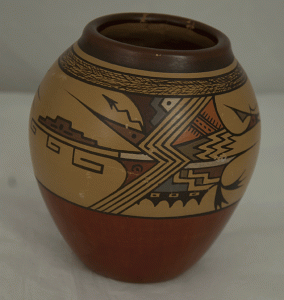 Lela Gutierrez (1895-1966) and  Van Gutierrez  (c.1870-1956)                           Vase, c. 1930s/40s. Red, tan, brown, orange, blue, black, and brown on red clay.          14.5 x 13 cm. (dia.) Gift of Dr. F. C. Spencer. 1945.1.32
Lela and Van Gutierrez modified a polychrome method that was already in their family. They tested many ideas in pottery making, developing a decorative scheme that featured earth colors on a matte background. Using bold curvilinear designs on neutral tan or beige became the base for a new Santa Clara style. This resulting style of the Gutierrez family is so distinctive, it is uniquely their own. The Gutierrez's used a rag to polish their pots instead of a stone, giving their pots a silky feel rather than the mirror-like brilliance of stone polish. Lela and Van were true innovators and specialized in pictorial designs in using a variety of hues and colors not normally associated with pueblo pottery (Trimble, 1987).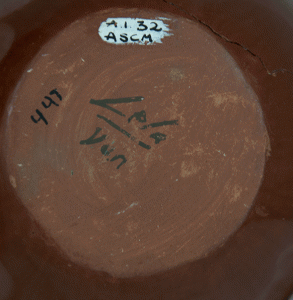 Signed on bottom of pot in black paint: "Lela" / "Van"
Margaret and Luther Gutierrez have carried on the work of their parents as well as Luther's granddaughter Stephanie. The unique style of the Gutierrez family spans four generations (Trimble, 1987).
---
                 Olla, c. late 1800s. Red clay, reduction fired, incised, polished.                        29.5 x 31.5 cm (dia.). Gift of Mrs. Charles H. Woodard. 1965.1.19
Up to about 1900 vessels were made with the smudging technique. The jars have a concave base, widely flaring low underbody, mid-body bulge, rather tall, slender neck with a pronunced flare at rim. The departures from the tradition can been seen in this olla. Sculptural detail embellishes the vessel with a fluted rim, the neck is rippled with vertical carvings, and the mid-body is made with a bulge (Frank & Harlow, 1990).  European influence is seen in the fluted rim.
---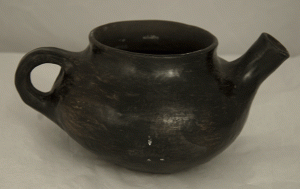 Santa Clara Pueblo. Tea Pot, c. 1920s/30s. Red clay, reduction fire.                                             12  x 23 cm. Gift of Dr. F. C. Spencer. 1945.1.33
---
BIBLIOGRAPHY
Batkin, Jonathan. Pottery of the Pueblos of New Mexico 1700-1940. The Taylor Museum of the Colorado Springs Fine Arts Center. 1987.
Frank, Larry and Francis H. Harlow. Historic Pottery of the Pueblo Indians 1600-1880,    Schiffer Publishing Ltd. 1990.
Trimble, Stephen. Talking with the Clay: The Art of Pueblo Pottery. School of American Research Press. Santa Fe, New Mexico.1987.