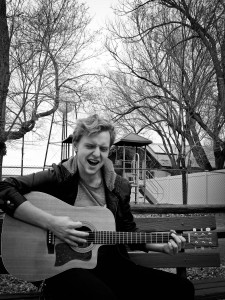 Kick off your weekend in a great way with Tunes@2, a new performance series that takes place every first Friday (February 6; March 6; April 3; May 1) near the library's K2 Coffee Lounge, second floor.  This series is co-sponsored by the Nielsen Library and the Music Department.
ASU student Sky Choice, who is majoring in music with an emphasis in performance and music busienss, will kick off the series on Friday, February 6, 2:00pm. Come join us for great music, superb coffee (available for purchase), and fine end-of-week camaraderie.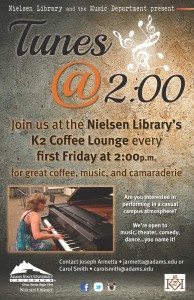 Are you a student interested in performing in a casual atmosphere? We're open to music, comedy, theater, dance…you name it! Contact Joseph Armetta (jarmetta@adams.edu) or Carol Smith (carolsmith@adams.edu) if you'd like to perform at a future Tunes@2 event.