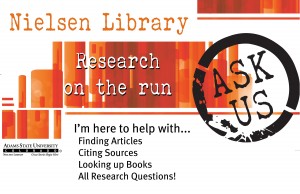 With finals fast approaching the library staff is hitting the road and heading to a building near you.
From December 8 – December 15 librarians will have tables set up in various buildings around campus.
We'll be there to help with research, citations, looking up books…any service we normally provide at the reference desk.
Stop by and ask us anything!
Monday 12/8
1:30pm-3:30pm: East Campus, West Entrance
3pm-5pm: Business, South Entrance Lobby
Tuesday 12/9
1pm-3pm: McDaniel, North Side Lobby
3pm-5pm: Porter, East Entrance
6pm-8pm: McDaniel Computer Lab
Wednesday 12/10
6pm-8pm: SUB Computer Lab
Thursday 12/11
10am-12pm: McDaniel, North Side Lobby
1pm-3pm: SUB, South Entrance Lobby
Friday 12/12
1pm-3pm: Business, South Entrance Lobby
Monday 12/15
1pm-3pm: Porter, East Entrance