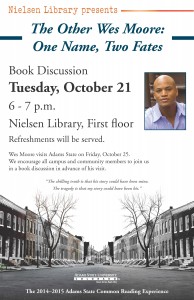 Have you read The Other Wes Moore: One Name, Two Fates, the 2014-2015 ASU Common Reading book selection yet? If not, there's still time to read it before author Wes Moore visits Adams State on October 24th. The Nielsen Library has three copies on reserve – you can request them at the circulation desk.
The Nielsen Library will be hosting two events in recognition of Wes Moore's visit:
On Tuesday, October 21, 6:00pm – 7:00pm, we will be hosting a book discussion on the first floor. Come ready to share your thoughts about The Other Wes Moore!
On Friday, October 24, 7:30pm, we will host an author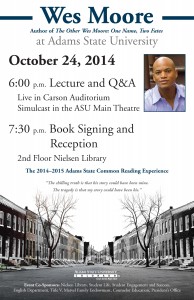 reception and book signing on the second floor of the library. This reception directly follows Wes Moore's talk in Carson Auditorium at 6:00pm.
Refreshments will be served at both events.