Raven Langosh is a recent graduate from Adams State University, having earned a B.S. in Exercise Science as a student in Human Performance and Physical Education. During Raven's last year as an undergraduate at Adams, Raven also coached local athletes in the sport of powerlifting.
In her first coaching season, Raven helped one of her athletes to a national championship title. Competing in the United States Powerlifting Association 2018 Drug Tested IPL World Championships, Santana Sandoval won the 15-19 age group Raw category 52 kg weight class while under Raven's direction.
Raven was first introduced to the sport of powerlifting as a competitor in 2016. Since then, her interest in the sport and in its relationship with her studies in exercise science has grown, leading to her recent explorations in coaching. Raven cited course work in Biomechanics, Kinesiology, Methods of Coaching, Sport Psychology, Sport Nutrition, Strength and Conditioning and many others as resources for her as a coach.
One incident in which Raven says she drew heavily upon her Sport Psychology and Methods of Coaching courses was at the USPA Championships in Las Vegas, Nevada. Raven said that her athlete, Santana, had failed on two of the three attempts for one of the required competition lifts. As Raven could see Santana becoming anxious and agitated, she decided to model calm behavior for the athlete, and to help direct Santana's attention to what was important in completing the lift. On her third and final attempt, Santana completed the lift successfully, securing her national title.
Throughout the training season, Raven said that her studies in Sport Nutrition were extremely helpful. In powerlifting, athletes have sometimes been known to engage in unhealthy dieting and calorie restriction due to weight class regulations and the desire to maintain a certain body composition. Raven wanted her athletes to avoid unhealthy eating habits, and used her knowledge of sport nutrition to create balanced diet plans that provided the athletes with enough nutrients. She believes that being able to maintain a healthy and balanced diet throughout the season greatly added to her athletes' success.
After a successful first year, Raven will continue to coach athletes in powerlifting. She also plans to attend graduate school, studying to be a physical therapist.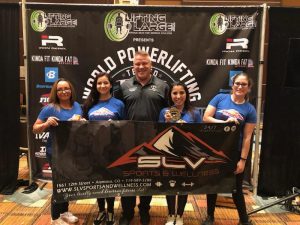 Author: Brian Glassey, Applied Sport Psychology graduate student