The most common Taos pottery, is called Taos Micaceous originating ca. 1550-1600 and is still made today. The vessels are neither mica-slipped or mica tempered, but are made from clay that is rich in mica and does not require temper. Vessels made from micaceous are readily recognized by the tiny flakes of mica that are visible on the surface. The color of the pottery varies from brown to a bright orange. Pottery made from micaceous clay is preferred for cookware (Batkin, 1987). Picuris and Taos have followed the traditions of making pottery quite different from other pueblos. Their utilitarian wares more closely resemble the pottery made by the nearby Apache in being unpainted, unpolished, and decorated. The unpolished surface of the pots were often roughened with combings or other striations. Some vessels were constructed by pressing into baskets, producing a characteristic surface look of a corn cob rolled over it. The clay is formed of decayed pre-Cambrian schist, filled with flecks of mica (Frank & Harlow, 1990).
---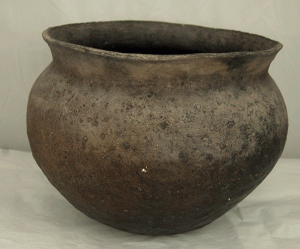 Taos. Cooking pot, c. 1700s/1800. Micaceous red clay.                                   23 x 32.5 cm. (dia.). Gift of High Country Antiques Battle Club.1971.5.5.1
---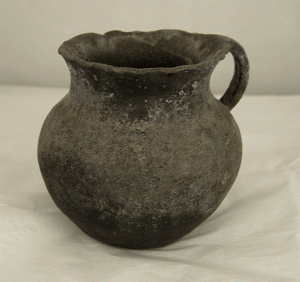 Tewa or Taos/Picuris. Water Pitcher, c. mid-late 1800s. Gray micaceous clay. 13.3 x 15 cm. dia).  Gift of Mrs. Lila Jean Eschman. 1975.3.9
---
BIBLIOGRAPHY
Batkin, Jonathan. Pottery of the Pueblos of New Mexico 1700-1940. The Taylor Museum of the Colorado Springs Fine Arts Center. 1987.
Frank, Larry and Francis H. Harlow. Historic Pottery of the Pueblo Indians 1600-1880. Schiffer Publishing Ltd. 1990.