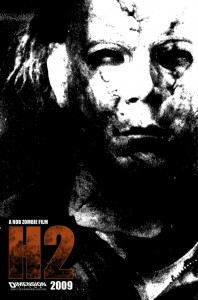 Armando Montano
South Coloradan
This past August marked a possibly-finite end to one of horror film's most recognized and brutal characters with the release of Rob Zombie's sequel, Halloween 2.  Written, directed and produced by Rob Zombie, the sequel to the 2007 remake of the original 1978 Halloween was the tenth and possibly last film in the Halloween series.
The film starts with a quick flashback, with Deborah Myers visiting a young Michael Myers at Smith's Grove Sanitarium. There she gives Michael a gift of a white horse statuette. The horse reminds Michael of a dream he had of his dead mother's ghost, all dressed in white and leading a horse down the sanitarium halls toward Michael, coaxing him to "bring him home." The film then picks up where Halloween ended, following Laurie Strode as she struggles to deal with the aftermath of the previous year's events. Dr. Loomis tries to capitalize on those events by publishing a new book about everything that happened, while Michael Myers continues his search for Laurie so that he can reunite with his sister.
Fifteen years later Laurie Strode is picked up and taken to the emergency room when Brackett finds her wandering around in a state of shock after having shot Michael. Michael's lifeless body is discovered and loaded into an ambulance, and presumed dead. But the driver crashes the ambulance and awakens Michael. He escapes the crash scene and walks away. One year later, Michael's body has been missing since last Halloween. Laurie has been living with the Bracketts and recently began having recurring nightmares about the event a year before. Michael elsewhere has also been seeing visions of his mother's ghost and a younger version of himself, who tells him that it is time to bring Laurie home, compelling him to head for Haddonfield.
As Michael draws closer to Haddonfield, Laurie's nightmares begin to intensify and mirror Michael's brutal acts as a response to the trauma from a year before. While she tries to deal with her dreams, Dr. Loomis has written another book about the Michael Myers incident. He has been on tour to promote his new book, but his book is already being seen as his attempt to capitalize on the actions of Michael and exploiting his victims. When his book is released, truths about the incident and the people affected by the events are finally revealed, just in time to see the return of Michael Myers to his hometown…
Halloween II sees the return of cast members from Halloween; Malcolm McDowell returns as Dr. Loomis, Scout Taylor-Compton as Laurie Strode, and Tyler Mane returns to Michael Myers. The film follows a more believable story line than the first, and focuses more on the mental link between Laurie and Michael, hinting at the possibility that both Michael and Laurie share the same psychological issues. Halloween II is rated R for strong, brutal and bloody violence throughout along with, terror, disturbing graphic images, language some crude sexual content and nudity.