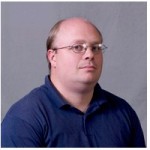 Toni Ortivez
The Paw Print
Last Wednesday night adjunct professor of geology and earth sciences, Lyle Carbutt, presented his lecture on dinosaurs in Colorado during the Mesozoic Era. He has participated in dinosaur digs in Colorado and Utah, as well as, in North and South Dakota. Carbutt's lecture is the second installment in the Faculty Lecture Series at Adams State College.
Carbutt finished his bachelor's degree in geology at Adams State College in addition to a minor in biology and English. Due to his background, Carbutt wanted to clarify the intent of his lecture. He remarked, "I'm going to try to focus on the past, and dinosaurs that lived in the past."
Carbutt concentrated his lecture on the 20 dinosaurs that were discovered in Colorado during the Mesozoic Era, roughly 250 million to 65 million years ago. Due to the vast amount of time in the Mesozoic Era, a large amount of information was to be passed along to the audience in the course of the lecture. However, Carbutt was intent on educating the audience on the creatures of this time.
He discussed dinosaurs such as the Stegosaurus, Tyrannosaurus Rex, and Triceratops, and many others. Along with giving detailed pictures of each of these creatures, Carbutt passed along how they may have lived. They were not simple creature by any means; although they may not have had the intelligence we hold in high regard, they were instinctive and impressive creatures. Carbutt gave examples on how they may have hunted for food as well as explained which dinosaurs had the physical capability to attack another.
Carbutt also focused on the changes that the planet was undergoing, including shifting plates and intense climate changes. Although North America hadn't quite been shaped at this point, scientists are still able to determine roughly where it was located. Since the location of Colorado was identifiable, it is possible for the migration patterns and type of dinosaurs who live in Colorado to be determined.
Carbutt also had fossil molds on display saying, "Molds are much easier to display and handle because they weigh considerably less." These fossil molds are remnants of a few of the dinosaurs discovered in Colorado that relate back to the Mesozoic time period. Carbutt was enthusiastic about the information he had to offer and encourages anyone who is interested in dinosaurs to visit the Ryan Museum in Porter Hall room 115, where many of the fossils are on display.
The Faculty Lectures at Adams State College are recorded and viewable on Adams homepage under the Faculty Lectures link. The third Faculty Lecture will be Wednesday March 3 at 7 p.m. in POR room 130. This lecture will be given by Assistant Professor of Management Dr. Pat Robbins and is entitled "Unlocking the Mysteries of Motivating Millennials." This lecture will focus on Generation Y and the events which have helped mold this generation. Any questions may be directed to Dr. Robert Astalos.