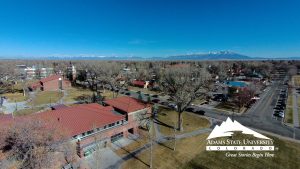 By Jasmyn Brendle |
According to Best Master's Degrees, Adams State University has been recently included in the "Best in the West" list by the Princeton's Review, as well as being ranked 184th "Best Bang for the Buck" in the western United States. Victory Media also recognized Adams State among the top 15 percent of "Military Friendly" schools in the nation.
Some of the degrees mentioned were part of the ASU Graduate School. The Department of History, Government, and Philosophy (HGP) offers a unique Online M.A. in Humanities with an American History Emphasis. This 30-credit graduate program is designed for baccalaureate-level scholars. All nine online classes are available so that students can study at their own pace from home. Online M.A. students take just two classes every fall, spring, and summer for a manageable workload and flexibility with busy schedules. There's only one required trip to Alamosa for students to defend their master's thesis project.
Online courses will cover topics like historiography, state history, American West, World Wars, historical geography, Civil War, political theory, African American civil rights, and Middle East relations. If chosen, students can complete a three-hour practicum at an approved education or public history setting in their local community. M.A. students write and defend a master's thesis showing mastery of American history. ASU graduates will be eligible for the "Highly Qualified" teaching status in Colorado for career advancement in secondary history education. Completing the degree can also give the opportunity of a Ph.D. in the History program.
Other degrees at Adams State University that graduate students may also be interested in pursuing include the M.A. in Humanities with a Cultural Resource Management Emphasis, M.A. in Art, M.A. in Music Education or M.A. in Teacher Education with a Curriculum and Instruction Emphasis, M.A. in Counselor Education, M.A. in Human Performance and Physical Education, and Master of Business Administration. Not all of these degrees are offered fully online.
The previously mentioned online degrees are ranked in the top 30 in the western United States and among the top 50 in the nation, based on affordability and flexible class schedules.