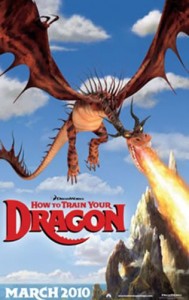 Toni Ortivez
The Paw Print
 
Last Friday was opening day for "How to Train Your Dragon", another animated film done by Dream Works Animation.  This animated film about overcoming differences and gaining self-confidence on the way, is a movie for all ages. "How to Train Your Dragon" is rated PG for intense action, brief mild language, and some scary images and has a run time of 98 minutes.
"How to Train Your Dragon" has a star-studded cast of voice actors including Jay Baruchel, voice of Hiccup, Gerard Butler, voice of Stoick, and America Ferrera, voice of Astrid. The story follows the main character, Hiccup, through his trials of trying to become a rough and tough Viking like the rest of his village. Hiccup is clumsy and has a long streak of bad luck when it comes to defending his village against the many dragons. Stoick, Hiccup's father, is the head of the village and is becoming more frustrated with his son as his mishaps increase.
After the father-son relationship is established as being shaky, the story begins. Hiccup, during the last dragon attack, believes he took down one of the more dangerous dragons, the Night Fury. Hiccup ventures off to find where this dragon may have landed with the intention of killing it and becoming the first in his village to have done so. However, after finding the dragon caught up in a rope, Hiccup draws his knife and, as the Night Fury stares up at him, finds himself having trouble completing the act.
The story continues with Hiccup's attempts to help the dragon as well as hide it from the village. Among the trials he must go through is a training camp of sorts, in which he learns to fight dragons. However, as his bond with the Night Fury, now named Toothless, strengthens and the duo learn more about each other, Hiccup is able to deal with the dragons without force or weapons. Astrid, a fellow trainee, becomes suspicious and follows Hiccup, discovering his secret. In order to protect Toothless, Hiccup takes Astrid for a ride and she is convinced that they are not the violent creatures the others believe them to be.
All is well in Hiccup's life at this point, except his father has returned from their expedition to find the dragons' nest, which is unsuccessful. Stoick is pleased to hear how well Hiccup is doing in training camp and tells him that he has never been more proud of him. At this point in the movie the tension is at its height and the question of what Hiccup will decide to do is raised.
"How to Train Your Dragon" may be targeted at the younger generations that are infatuated with animated films, but it has merit as an adult film. This action-comedy, although animated, lets your imagination run wild with thoughts of dragons and Vikings while keeping it entertained with comedy as well as an uplifting conclusion. Animated films are not just for children anymore and this fact is proven in "How to Train Your Dragon".