Lavender Graduation
We are excited to host ASU's first lavender graduation this year! Several students have been nominated to receive lavender cords in recognition of their contributions to the university community.
The students nominated by the ASU LGBTQ+ Faculty and Staff Coalition were:
Gretchen Rachlis
Jordan Barker
Alfred Petross
Jazmin Evans
Brandee Horne
Jiovani Colman
Anna Comar Atencio
The students were honored at a luncheon hosted at CASA Friday, May 1st 2015.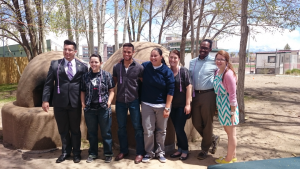 What is Lavender Graduation?
Lavender Graduation is an annual ceremony conducted on numerous campuses to honor lesbian, gay, bisexual, transgender, and ally students and to acknowledge their achievements and contributions to the University. The Lavender Graduation Ceremony was created by Dr. Ronni Sanlo, a Jewish Lesbian, who was denied the opportunity to attend the graduations of her biological children because of her sexual orientation.  It was through this experience that she came to understand the pain felt by her students.  Encouraged by the Dean of Students at the University of Michigan, Dr. Sanlo designed the first Lavender Graduation Ceremony in 1995.  The first Lavender Graduation began at the University of Michigan in 1995, with three graduates.  By 2001, there were over 45 Lavender Graduation Ceremonies at Colleges and Universities nationwide.  Graduating students, including undergraduates and graduates, are invited to take part in the celebration, which occurs each year the week prior to university-wide commencement events.