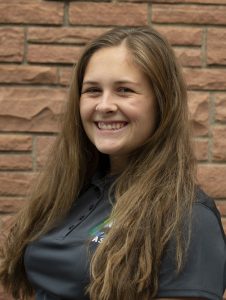 Name: Mariah Joy McDermott, (people call me Mo)
Major: International Business &Political Science
Minors: Spanish
Graduation Year: 2020
Hometown: Lakewood, CO
Hobbies & Interest:
My dog (Carlos)
Watching the Rockies/ Broncos
Watching Vox videos
Model UN
Camels
Other Leadership Roles & Involvement: 
 President of ASU Model UN
CoRE AS&F Social Media Coordinator
HAPPSS Student Admin Assistant
Why did you join AS&F: I joined because of its importance on our campus; especially right now. I'm passionate about co-curricular engagement and its importance. Also, AS&F is important for the students to be able to have their voices heard.
What are your goals for AS&F:  Involve more student in AS&F, Support my team, making AS&F more visible and highlighting mission and purpose to students
Email: mcdermottmj@grizzlies.adams.edu
Office Hours:
| | |
| --- | --- |
| Monday |  12:00 PM – 1:00 PM |
| Tuesday | 11:00 AM – 1:00 PM |
| Wednesday |  12:00 PM – 1:00 PM |
| Thursday | 11:00 AM – 1:00 PM |
| Friday |  12:00 PM – 1:00 PM |
Job description:
Preside over all meetings of the AS&F Government
Acts as the Chief Executive of the Executive Board of AS&F
The power to approve or veto any legislation or motion passed by the AS&F Senate
Appoint, subject to Senate approval, the AS&F Vice President of Finance
Appoint, subject to Senate approval, an Executive Secretary
Serve as a member of any committee as deemed necessary by the AS&F Government
Serve as liaison between ASU and the community of Alamosa regarding AS&F Government issues